"Twelve Steps and Twelve Traditions"
ARID Media version .PDF
NOTE: The ARID Media version is NOT A.A. General Conference approved literature.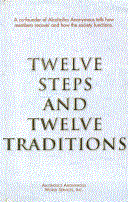 This is the classic piece of Buchmanite propaganda now fully digitally-remastered and available as "Twelfth Step" work! I'll freely give what I've been given. ;->
Drawing upon a freely-available Windows Help version, an actual "12x12" book and compiled using open-source software this text has been converted into standard searchable, hyperlinked and research-friendly Adobe Acrobat .PDF format.
While creating the electronic version I noticed that the actual book has several glaring formatting inconsistencies. Some pages within the actual book jump from 31 lines to 29 lines per page (obviously A.A.W.S. didn't reformat the book's contents electronically). The ARID Media version maintains 30 line per page within the body sections of each chapter with minor formatting changes (character height, width, hyphenation and spacing) so that its Table of Contents matches the original book. The actual text content is unchanged.
Because of the standardized page formatting the text flow differs from the official A.A.W.S. version. So, as a recommendation for those who choose to quote from it, make sure that you have an original to make sure you're quoting from the right pages as you debunk the Buchmanites.
Features:
Content Preserved: All content, including the frontmatter, has been reproduced to remain as true to the source material as possible.
Clipboard-enabled: You can quote passages with cut & paste ease.
Bookmarks: Chapters within the book can be easily jumped to by selecting the appropriate bookmark.
Hyperlinks: The entire Table Of Contents, including the chapter summaries, is individually linked to specific chapters and pages within the book. Also, throughout the text, links referring to other Steps and Traditions are included for easy reference.
Small size: Only uses one typeface for all content (Times New Roman TrueType) and uses zero bitmaps, resulting in a 529K download.
Free Downloads:
Twelve Steps and Twelve Traditions ARID Media version .PDF (529K)
MD5: 9FF5F3CAFFA65EE16DDFE9DB997514DD

Adobe Acrobat Reader (available from Adobe's website)
Other Links:
The ARID Site's book review of Twelve Steps and Twelve Traditions
---
Last updated 2005/09/04
---